Jaar: 2017
Regisseur: 

Sean Baker
Om eerlijk te zijn wist ik niets van deze film voordat ik The Florida Project ging kijken. Maar dat de pastel-getinte posters verwijzen naar een schrijnende dramafilm, had ik niet helemaal zien aankomen.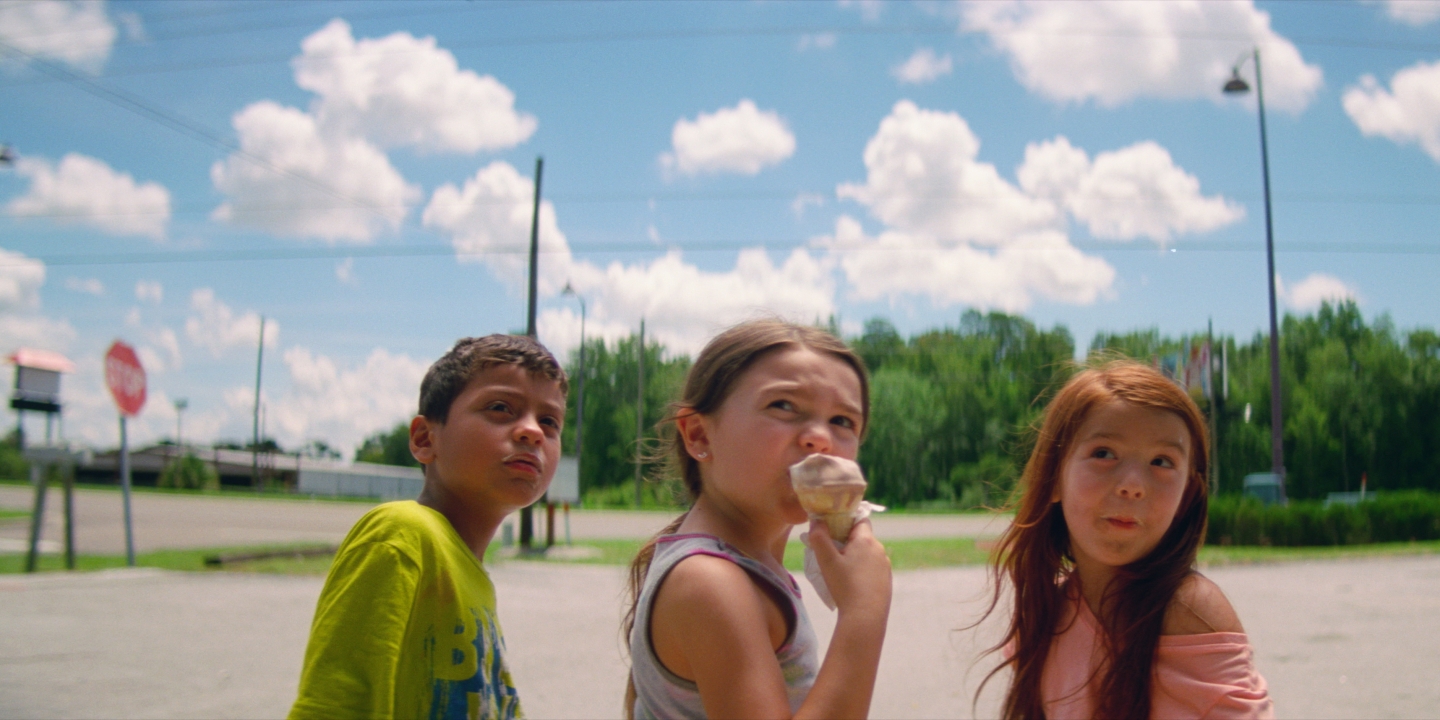 Lachen of huilen
Wat ik had gehoord is dat de film je zowel laat lachen als huilen, dus tijdens het kijken was ik zowel aan het wachten op een lach – die niet kwam – als een huilmoment – dat ook niet kwam. Het kwam er in de buurt, tijdens een zeer schrijnende scène.
Jeugd
Wat je ziet in The Florida Project – laat ik maar tot de kern komen – is de jeugd van drie kindjes. Moonee (Brooklynn Prince) wordt opgevoed door haar tienermoeder, Scooty (Christopher Rivera) ook door een jonge moeder, en Jancey (Valeria Cotto) wordt opgevoed door haar oma omdat haar eigen (tienermoeder) onverantwoordelijk is. Ze leven in Orlando, vlakbij Disney World Florida.
Bobby
Willem Dafoe is Bobby, de manager van het complex waar Moonee en Scooty wonen en zorgt voor de openbare orde en veiligheid. Wat erg nodig is door zowel de bezoekers als de bewoners, zoals Moonee's moeder. En hoewel de kinderen natuurlijk ook schattig zijn, hebben ze allemaal een scherp randje.
Diepgang
Deze personages samen maken The Florida Project tot een film waar je met concentratie naar kijkt. Het zet aan het denken over opvoeding en armoede. Het gaat over sociale problemen en hulpvaardige mensen. Een mooie film met diepgang.
Conclusie
The Florida Project wordt net als The Shape of Water ziekelijk gepromoot overal, dus hoogstwaarschijnlijk heb je de film al gezien of wil je hem zien. Op zich is dat ook geen slechte keus. Zeker wanneer je fan bent van Dafoe, of interesse hebt in het onderwerp, gaat The Florida Project niet teleurstellen. Het is allemaal alleen een beetje schrijnend dus.
Link naar The Florida Project.