Jaar: 2005
Regisseur: 

Noah Baumbach
De titel is wat vergezocht en door de jaren tachtig-setting krijg je een extra oud gevoel bij deze twaalf jaar geleden gemaakte film, maar dat maakt The Squid en the Whale niet automatisch slecht. Ik vond deze familiefilm aangenaam om naar te kijken.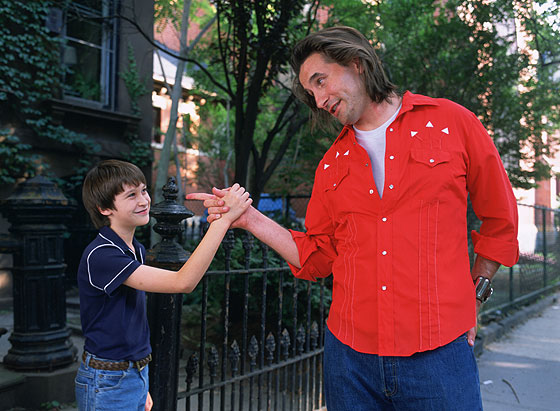 Triviaal
Wel moet gezegd worden, dat zonder de kwaliteitsacteurs in deze film, dit verhaal waarschijnlijk kant nog wal had geraakt. Want in feite is de verhaallijn cliché en triviaal: een stel gaat scheiden en zoekt naar nieuwe partners, de kinderen hebben het er moeilijk mee. Ze wonen – hoe kan het ook anders – in Manhattan, New York.
Kline en Baldwin
Het beste personage in de film zie je op de foto links: jongste zoon Frank, gespeeld door Owen Kline. Hij is de zoon van Kevin Kline. Zijn uitspraken en gedrag zijn erg grappig. William Baldwin speelt de gehate en geliefde tennisleraar Ivan. Jesse Eisenberg – oudste zoon Walt – zijn ribben zijn bijna te zien, zo dun is hij in 2005. Daarnaast heb je Jess Daniels, de vader in dit verhaal, die niet snel teleurstelt op het witte doek.
Overige elementen
Wat je verder kunt verwachten:
– ruzies
– opbloeiende liefde
– bijdehante jonge vrouwen
– twee schrijvers
– intellectueel gedoe
– sukkels in de liefde
– algehele luchtigheid
Aanrader?
Ja, The Squid and the Whale is zeker een aanrader. In het bijzonder als je houdt van films uit de jaren tachtig en negentig, want dat is het gevoel dat je krijgt bij deze comedy/drama-combinatie. Een aangename optie voor tussendoor. Waarom het overigens The Squid and the Whale heet, ontdek je pas tegen het einde van de film.
Link naar: The Squid and the Whale.