Zondag eindelijk deze film gezien en het was een genot.
We waren vooraf warmgelopen met een cluedo-spel georganiseerd door de Jameson Preview. Acteurs speelden rollen geïnspireerd op het verhaal van The Grand Budapest Hotel.
Schilderij
We moesten raden met welk moordwapen een moord was gepleegd en door wie. Een schilderij was één van de voorwerpen en dat komt terug in de film.
Berlijn
The Grand Budapest Hotel draaide dit jaar op het Berlinale filmfestival in Berlijn. Het verhaal speelt zich ook af in Berlijn, maar dan in de jaren '30. Het script is gebaseerd op het werk van Stefan Zweig.
Het verhaal
Een hotel dus. Je kijkt naar het levensverhaal van Zero Moustafa (F. Murray Abraham), de eigenaar van het hotel. Hij begint er ooit als medewerker in de ontvangsthal (Tony Revolori) te werken samen met zijn sterk geparfumeerde collega Gustave (Ralph Fiennes), die zijn rol als conciërge uiterst serieus neemt. Gustave is een indrukwekkend karakter en ook de meest opvallende.
Snel, snel, snel
Er gaan wat mensen dood, er zijn familieperikelen en achtervolgingen. De film is niet saai of langdradig. Op momenten dat het verhaal langzaam gaat, volgen de scènes in The Grand Budapest Hotel elkaar alsnog snel op. Iedereen heeft haast in de film. Behalve Madame D. (Tilda Swinton).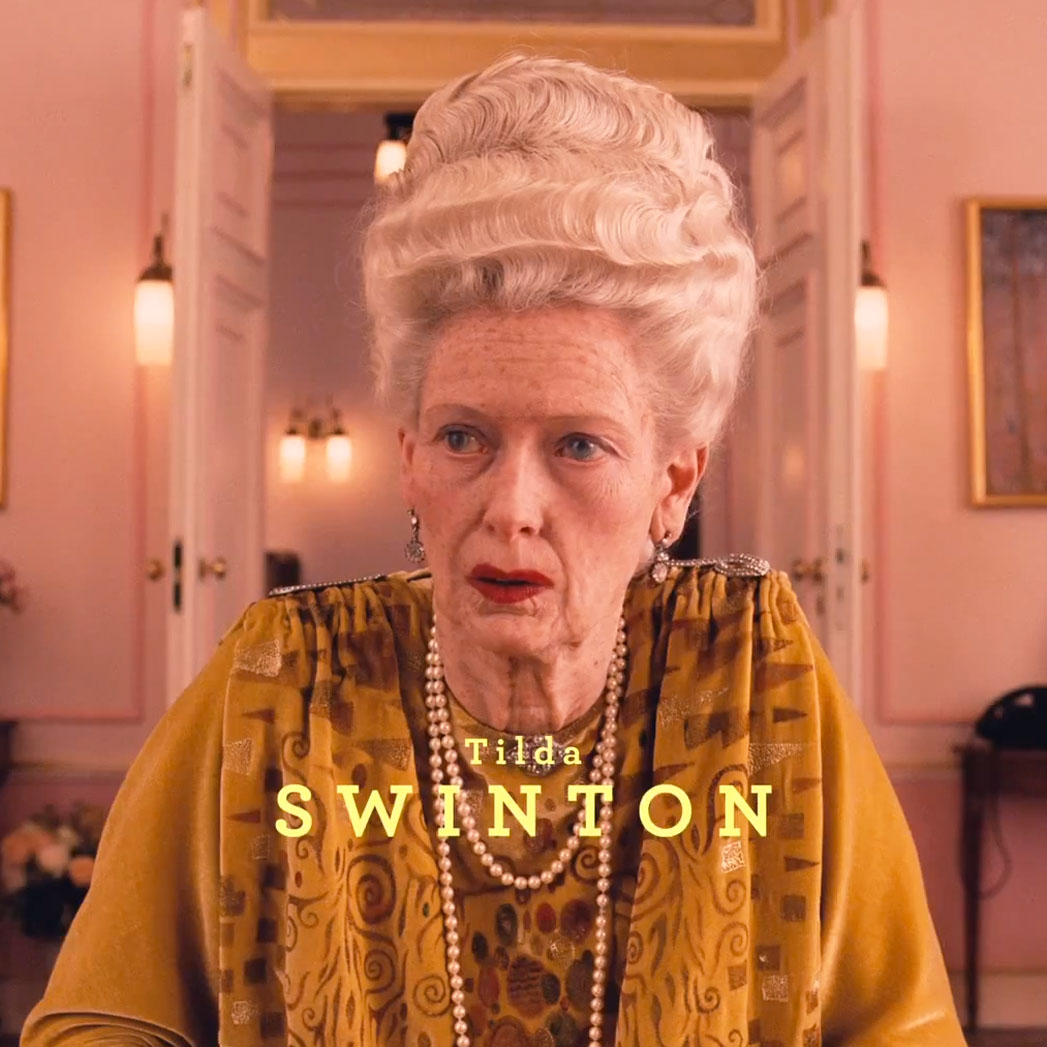 Madame D. is een oudere, afhankelijke vrouw. Een kleine rol, maar ze speelt het erg leuk.
Er is ook nog een slechterik: Serge X (Mathieu Amalric). Die lust mensen rauw.
Stijl
The Grand Budapest Hotel zit stilistisch geweldig in elkaar. Elk shot heeft dezelfde dynamiek en de acteurs bewegen mee. Een 'poppenhuisachtige filmstijl', las ik ergens en dat dekt de lading wel.
Wes Anderson: andere wereld
De Amerikaanse regisseur Wes Anderson heeft veel originele titels op zijn naam staan zoals Moonrise Kingdom, zijn vorige productie. Wat ik goed vind aan zijn films is dat ze je meenemen naar een totaal andere wereld. Hij is in staat om fantasie te vertalen naar verhalen die geschikt zijn voor volwassenen. Hij besteedt daarnaast veel aandacht aan de art direction.
De films hebben niet allemaal dezelfde stijl als The Grand Budapest. The Darjeeling Limited gaat bijvoorbeeld juist heel langzaam: een verhaal over drie broers die in een trein door India de familieband proberen te herenigen.
Moeilijke mensen
Anderson kan op een scherpe manier moeilijke mensen neerzetten. In Moonrise Kingdom zijn dat de ouders/leerkrachten van de kinderen die volle romantiek beleven, in de Darjeeling Limited de twee broers en in The Grand Budapest Hotel de zoon van Madame D. (Adrien Brody) en Madame D. zelf onder andere.
Wat alle films gemeen hebben: ze zijn erg grappig.
The Grand Budapest Hotel is geschikt voor iedereen, als je van een beetje raar houdt.
Klik voor de IMDb-link hier.