Jaar: 2011
Regisseur: 

David Gelb
Een tijdje terug las ik over deze documentaire, nadat ik al eens over de titel had gehoord. De film draaide namelijk op IDFA in 2011. Reden genoeg om Jiro Dreams of Sushi eens aan te klikken op Netflix.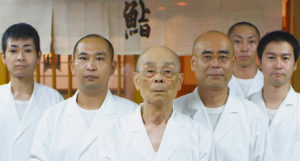 Beter dan gisteren
Sushi-chef Jiro Ono is een unieke persoonlijkheid. Ooit bedacht hij dat hij sushi wilde maken, en sindsdien droomt hij van nog mooiere en betere sushi dan de dag van gisteren. Elke dag is een route richting perfectie. Hoewel hij al 85 jaar oud is, werkt hij nog dagelijks in zijn met drie Michelin-sterren bekroonde restaurant, samen met zijn oudste zoon.
Wie is Jiro
De kwaliteit van zijn prachtig ogende sushi lijkt niet te evenaren. Hoe doet hij dat toch? Jiro Dreams of Sushi heeft geen enerverende spanningsboog, maar je leert meer over wie Jiro is, wat hij doet, en hoe anderen – zoals zijn zoons – hun gedreven vader ervaren.
Inspirerend
Jiro's levensverhaal en levensvisie is intrigerend en inspirerend. Dat maakt het kijken naar de documentaire leuk. Zijn restaurant hanteert een denkwijze die niet automatisch aansluit bij de gemiddelde motivatie van een werknemer. Maar voor wie het aandurft, geeft het werk in de keuken veel voldoening. En naast passie voor sushi, heeft Jiro ook humor.
Aanrader
Conclusie? Luchtige, relaxte documentaire over nieuwsgierig-makende sushi. Aanrader, als je van sushi houdt en het leuk vind te kijken naar iemand met een gedreven persoonlijkheid.
IMDb naar Jiro Dreams of Sushi.