Jaar: 2017
Regisseur: 

Sara Driver
Boom for Real: The Late Teenage Years of Jean-Michel Basquiat was mijn eerste documentaire van IDFA 2017. Ik wilde meer weten over Basquiat én over New Yorkse kunst in de jaren zeventig en tachtig. Dat Jim Jarmusch erin voorkomt, was een extra motivatie.
Doorzettingsvermogen
De film blijkt zeer informatief. Je leert over de opkomst van Basquiat zijn artistieke carrière, zijn barre privé-omstandigheden, zijn liefdesleven, zijn doorzettingsvermogen en wie hij was voor zijn artistieke vrienden. Ik zat vanaf minuut één lekker in het verhaal.
Graffiti
Graffiti is een belangrijk onderdeel van de straatcultuur in New York in deze jaren, vooral door de grote armoede in de stad. Dat vond ik interessant om te zien. Anderzijds was het moeilijk om me te verplaatsen in de sfeer van toen. De kunstuitingen op muren en treinen waren vaak protesten en die protesten moet je voelen. Je gaat ze niet voelen door het verhaal in Boom for Real.
Indruk
Tegen mijn verwachting in, heb ik in Boom for Real: The Late Teenage Years of Jean-Michel Basquiat, geen kunst gezien die indruk op me maakte. Dat vond ik jammer. Daar staat tegenover dat het levensverhaal van Basquiat wél ongewoon en boeiend is, evenals de periode waarin dit zich allemaal afspeelt.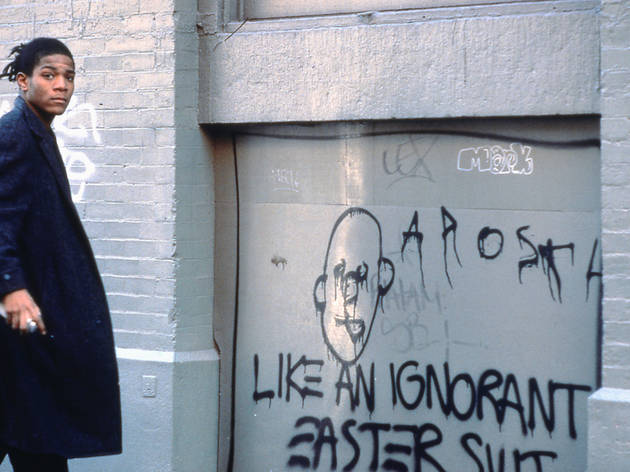 Conclusie
Concluderend een plezierige, informatieve film, maar die qua kunst minder indruk op me maakte dan ik gehoopt had. Dat ligt overigens niet aan Basquiat zijn werken, maar aan de getoonde beelden. Zijn beste werken zie je in de documentaire niet. Aanrader voor de kunst-, New York- en/of graffiti-geïnteresseerde.
Link naar Boom for Real & IDFA.