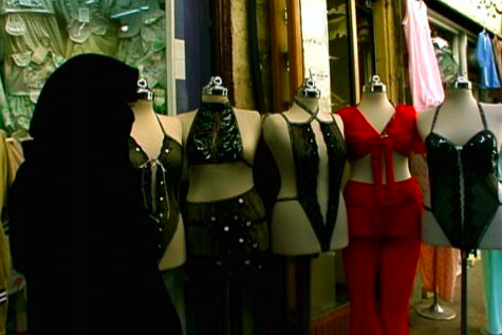 De korte documentaire Veils Uncovered, zag ik gisteren tijdens een speciale avond in Kriterion. De documentairemaakster Noura Kevorkian onderzoekt hierin het onderwerp seksualiteit bij vrouwen in Damascus. Deze vrouwen gaan gesluierd in burka over straat, maar hebben ook een onverwacht wilde kant. Ik vond het erg interessant om te zien. 
Vrouwen in Syrië doen er alles aan om hun man seksueel te behagen, uit angst dat hij vreemdgaat. Ze leven in gevangenschap en hebben niets te zeggen over of ze hun gezicht bedekken of niet. Sommige van hen zien dat graag anders. De Canadese Kevorkian komt zelf oorspronkelijk ook uit deze buurt, uit het nabijgelegen Libanon.
Conclusie
Veils Uncovered is een onthullende, maatschappelijke korte film die je laat nadenken, en waardoor je vrouwen in Islamitisch landen met andere ogen gaat bekijken.
Link naar Veils Uncovered.